Marine life rescues are becoming all too common and necessary due to the increasing amount of ghost netting, and other plastic debris in our waters. Watch a Whale freed from fisherman's netting in this heartening video. Five vacationing family and friends become heroes as they work really hard to free a Humpback Whale tangled in nylon gill netting in the Sea of Cortez. A founding member of the Great Whale Conservancy, Michael Fishbach, and his group happened upon a young female Humpback Whale who could not move either pectoral fin because both were bound to her sides by fisherman's netting. Her tail fin was heavily weighed down with more netting and gear as well.
It is thrilling and heartwarming to see the team of five, who worked for an hour, do their best with just one small knife and their hands to free a whale so close to death.  It's even more thrilling to watch the show of appreciation she extends to her rescuers at the end of the video.  She stayed with their boat for an hour slapping her tail and pictorial fins against the water and breaching 40 times to celebrate her new lease on life and to say thank you the only
way she knew how.
Watch the video of this heroic rescue of a whale freed from a fisherman's netting.
Watch another video of a whale shark being freed from fisherman's netting.
And yet another video of a Humpback Whale trying to swim with half a ton of netting attached to her.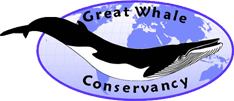 Thank Goodness for Heroes!
For more information on saving whales visit the Earth Island Institute's Great Whale Conservancy or contact Gershon Cohen Ph.D. at 828-675-9387 or Gershon@aptalaska.net
See it on Pinterest
Read about more heartbreaking yet courageous and heroic instances of marine life rescues from netting, plastic, and many other circumstances on the Animal Rescues Facebook page.